The Best Valentine's Day Activities for ESL classrooms
Games and activities that target specific Valentine's Day related vocabulary can be a great way to help ESL students. Using games is a fun way to learn new words and reinforce spelling . By providing a fun and interactive way to practice language skills, these games can help make learning more enjoyable too! Students will become more confident and successful language learners. My favorite Valentine's Day themed vocabulary building activities are easy to prep and use. If you'd like to learn more about other resources available for Valentine's Day, check out this blog post: ESL Valentine's Day activities for kids
Valentine's day vocabulary bingo – without words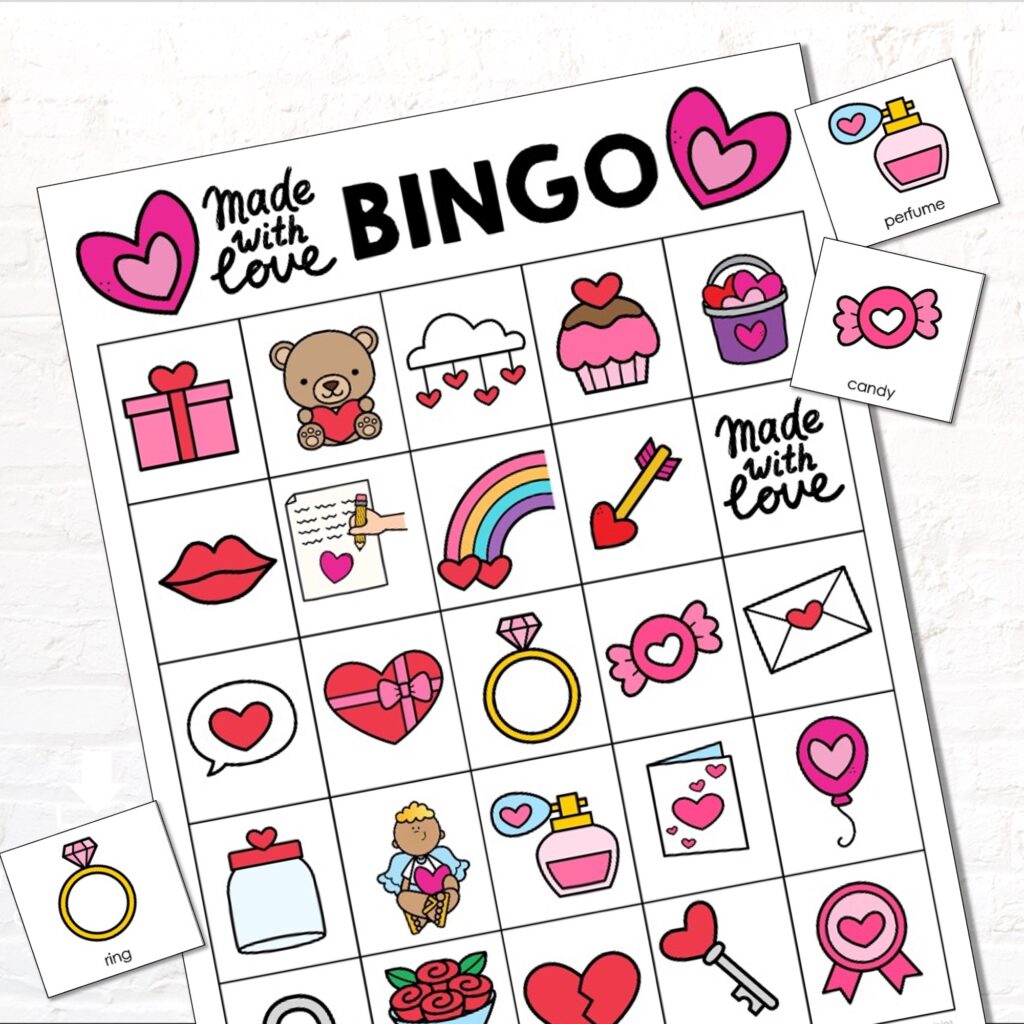 challenge students to remember the names of images
These bingo boards are a great way to help students practice and remember new words that they've learned. Here are a few reasons why I love using bingo games to study vocabulary:
Vocabulary bingo games are a fun and interactive way to learn new words.
They help students to develop an understanding of the meaning of words, as well as developing their spelling and pronunciation skills.
They target specific language making them suitable for all ages and levels of learning.
They encourage collaboration between students, as they compete to be the first to identify a word and its meaning.
They're an engaging and enjoyable way to learn vocabulary, and can help to keep students engaged and motivated.
To take a closer look at the Valentine's Bingo Game and what is included in the set click here: Valentine's Day Bingo Game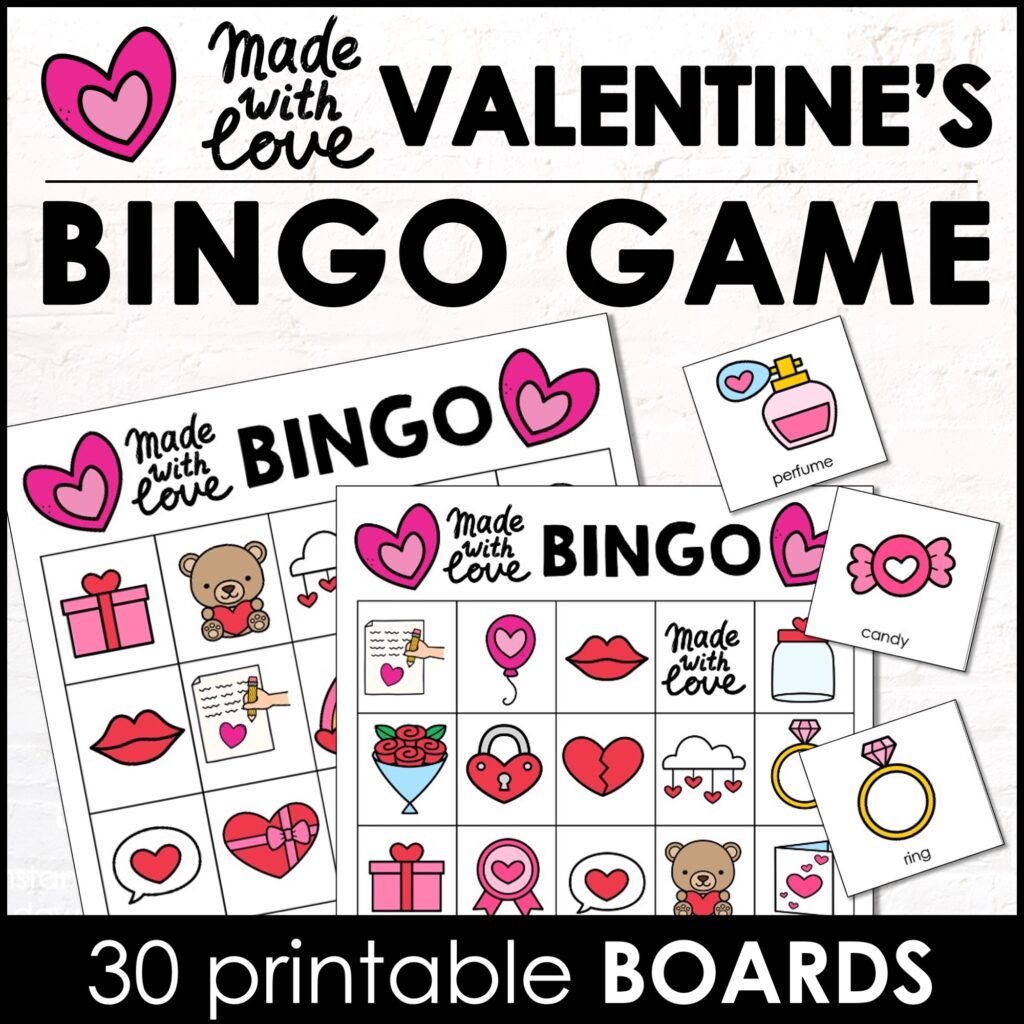 EDITABLE SHOW & TELL templateS for the whole year
Show and tell is my absolute favorite classroom activity. It encourages student participation, generally helps build confidence, and allows students to get creative. In addition, it helps students develop communication skills, public speaking skills, and encourages self-expression. Show and tell activities also help students practice their listening skills, as they must pay attention to the presenter in order to understand the presentation. Lastly, show and tell activities can be used to introduce new topics and review topics! In fact, this type of activity brings life to a lesson and is a student favorite. Grab this year-long kit done for you kit which includes:
3 topics per month to choose from
12 different worksheets (January through December)
Graphic organizer on every page to write down ideas
The best part? In addition to the pre-made topics, you can edit the topics to fit your own needs. These templates are editable in PowerPoint!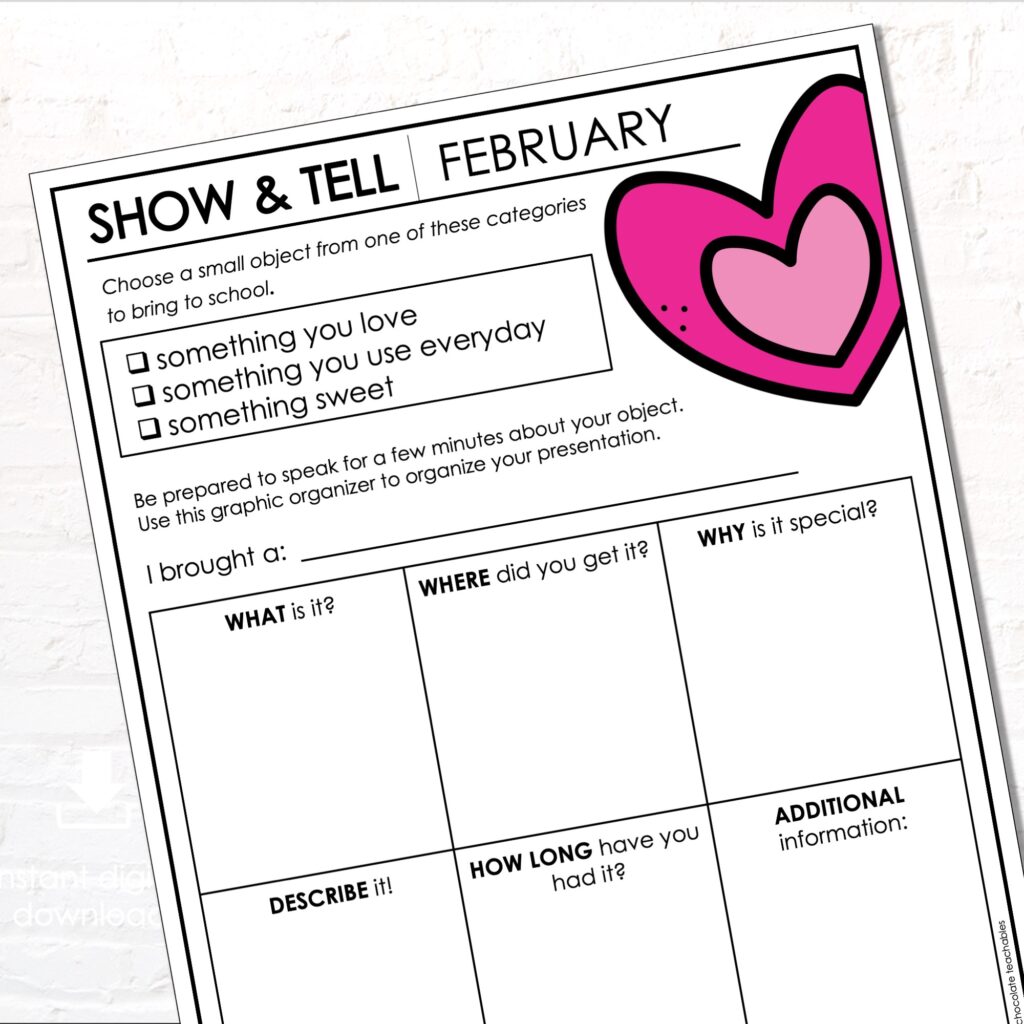 Take a closer look at this done for you SHOW and TELL kit! I hope that this helps you with a fun, student led activity already planned at the beginning of each month.

You can also purchase the entire set by clicking HERE
SOLVE THE MYSTERY – VaLENTINE's day who dunnit!
Escape Rooms are an amazing way to get kids involved in the learning process. In this case they will practice parts of speech and Valentine's Day vocabulary. Since breakout style activities can be challenging for ESL learners, I've created a complete collection of ESCAPE ROOMS that don't require tricky locks, keys and codes.
This engaging Valentine's Day Escape Style Activity reviews comprehension, vocabulary, question words and parts of speech including verbs, prepositions, nouns and adjectives. Your students will participate in the story of the CUPCAKE THIEF! By solving each of the 7 different tasks, they will eliminate the suspects and find the identify the thief along with the location of the missing cupcakes for the Valentine's Day party. Prizes for completion are included (printable bookmarks or homework passes). This activity is also available in my discounted SOLVE THE MYSTERY BUNDLE
Great for review in ELA, ESL and EFL classrooms!
Created with young learners in mind – no complicated instructions, locks or codes.
Each completed task requires a teacher signature to "unlock" the next task and eliminate one of the eight possible suspects!
How does an escape room work?
First, print the necessary components (worksheets, jumbled sentences and prizes).
Secondly, read the story line together as a class.
Third, solve all of the task.
Lastly, students will receive prizes for solving all 7 tasks and the mystery. (Included are bookmarks and homework passes). Students also love candy and mini-erasers!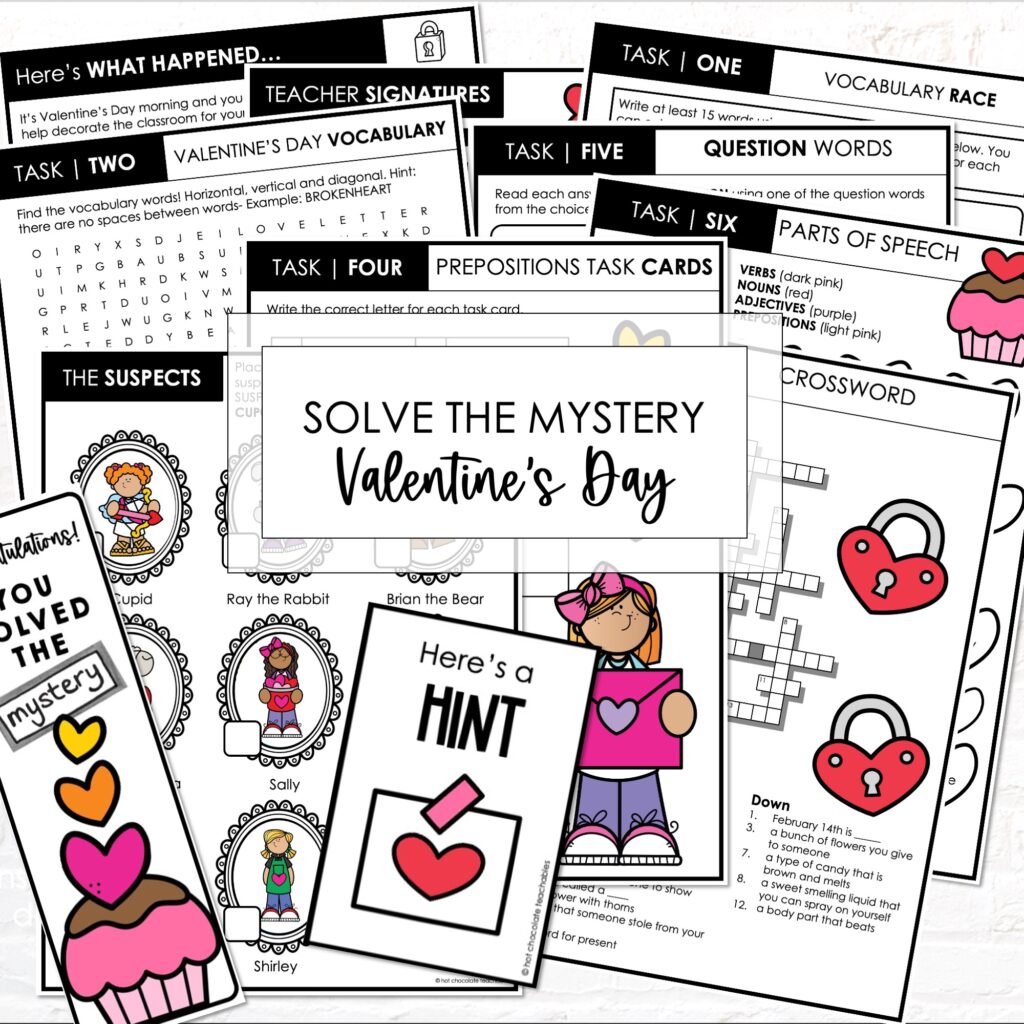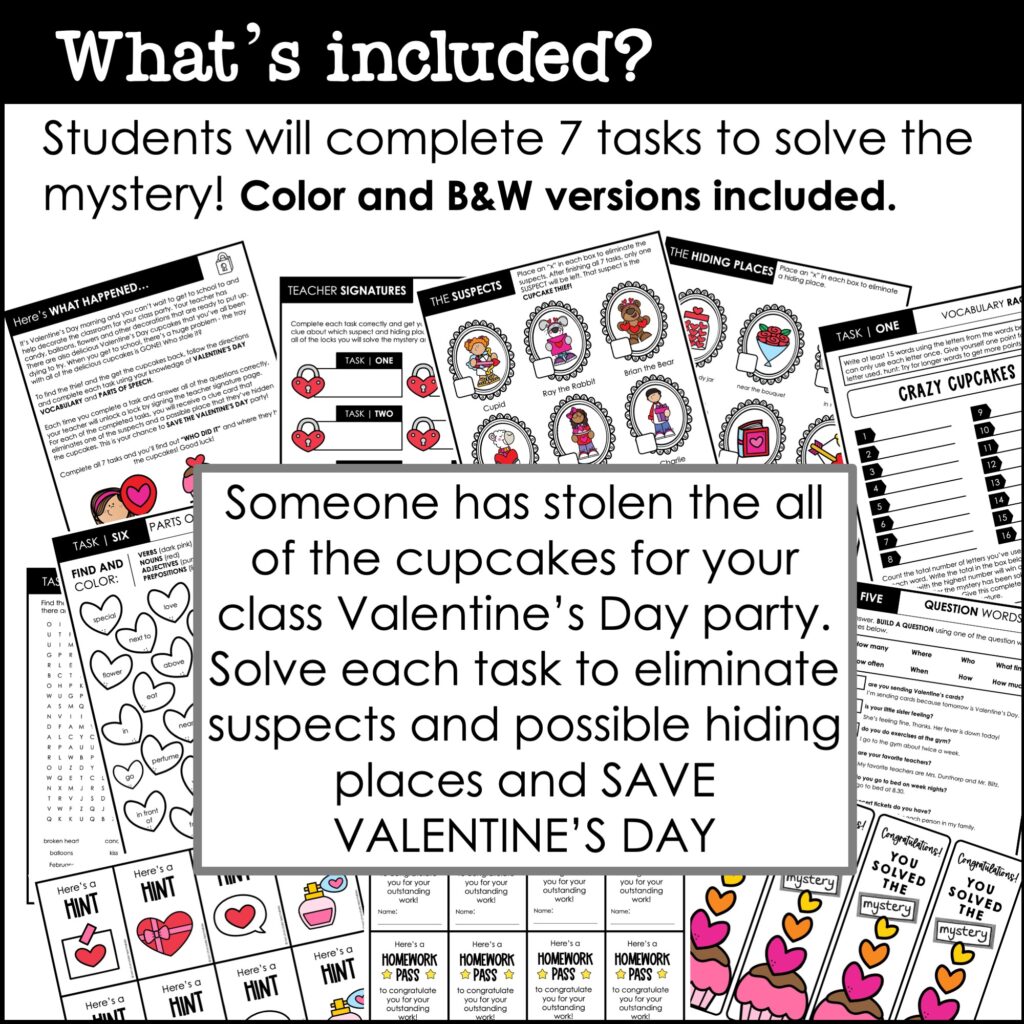 In addition you might also like: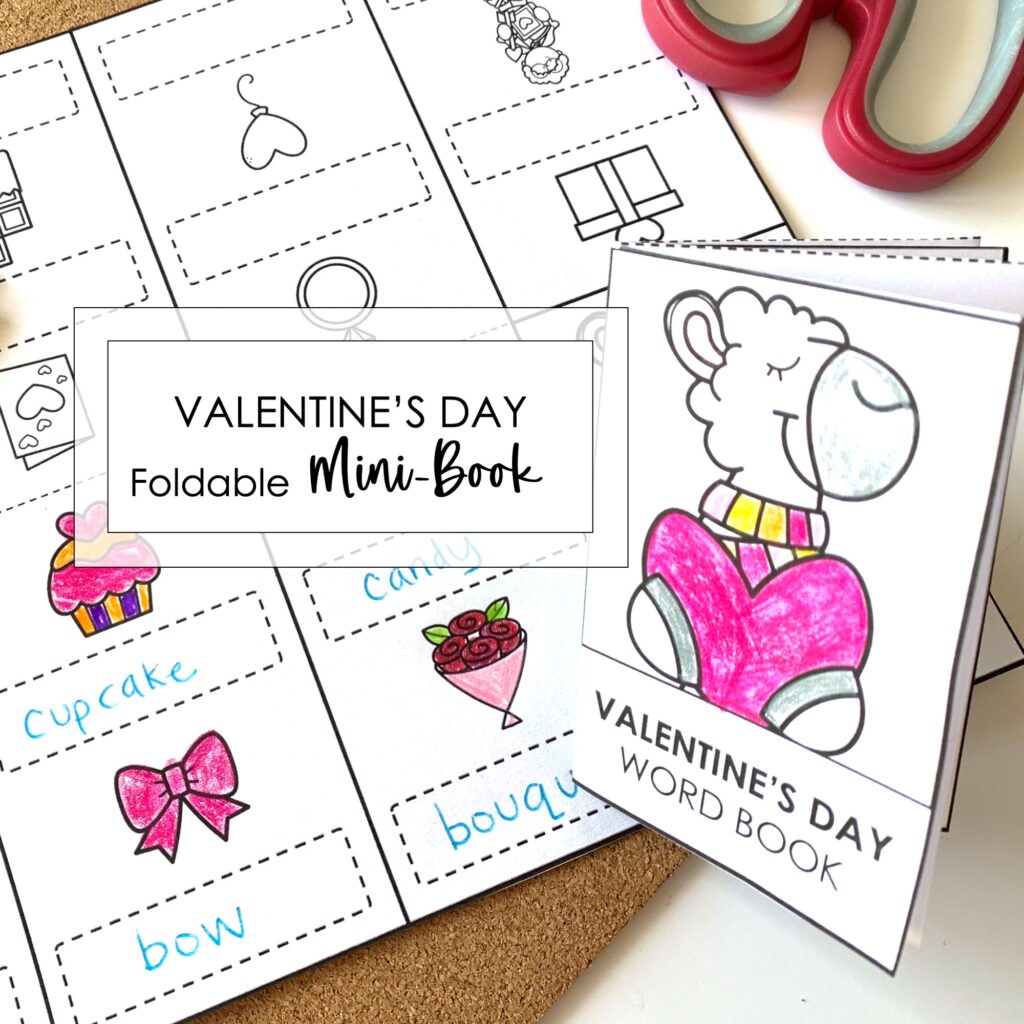 As a huge advocate of game based learning, I hope that you find these resources as useful I do this February!
Happy teaching, Brooke