5 Fun Activities to Practice Sentence Building
Do your students struggle with using proper structure for sentences and questions? Here are my five favorite activities to practice sentence building with ESL learners. These activities are low prep and work well in small groups.
TRY USING A SENTENCE BUILDING ESCAPE ROOM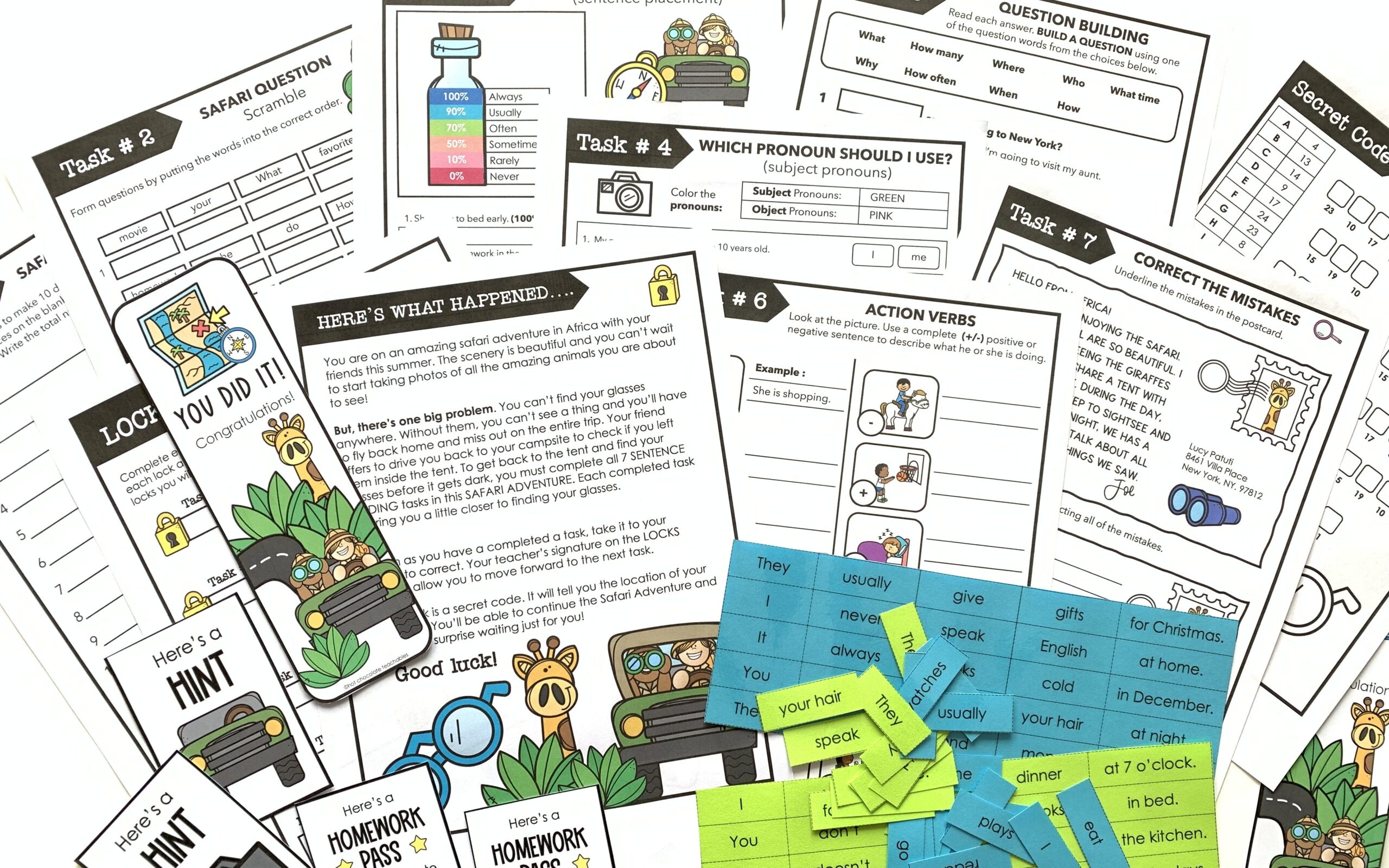 Escape Rooms are an amazing way to get kids involved in the learning process and in this case, practice building sentences. Since breakout style activities can be challenging for ESL learners, I've created a complete collection of ESCAPE ROOMS that don't require tricky locks, keys and codes.
You can take a closer look at the SENTENCE BUILDING ESCAPE ACTIVITY here.
How does an escape room work?
Print the necessary components (worksheets, jumbled sentences and prizes).
Read the story line together as a class.
Have students rotate through tasks 1-7. Each time they complete a task, they'll need your signature to move forward.
Complete all 7 tasks and the alpha-numeric code to solve the mystery.
Students will receive prizes for solving all 7 tasks and the mystery. (Included are bookmarks and homework passes). Students also love candy and mini-erasers!
BUILD-A-SENTENCE BOARD GAME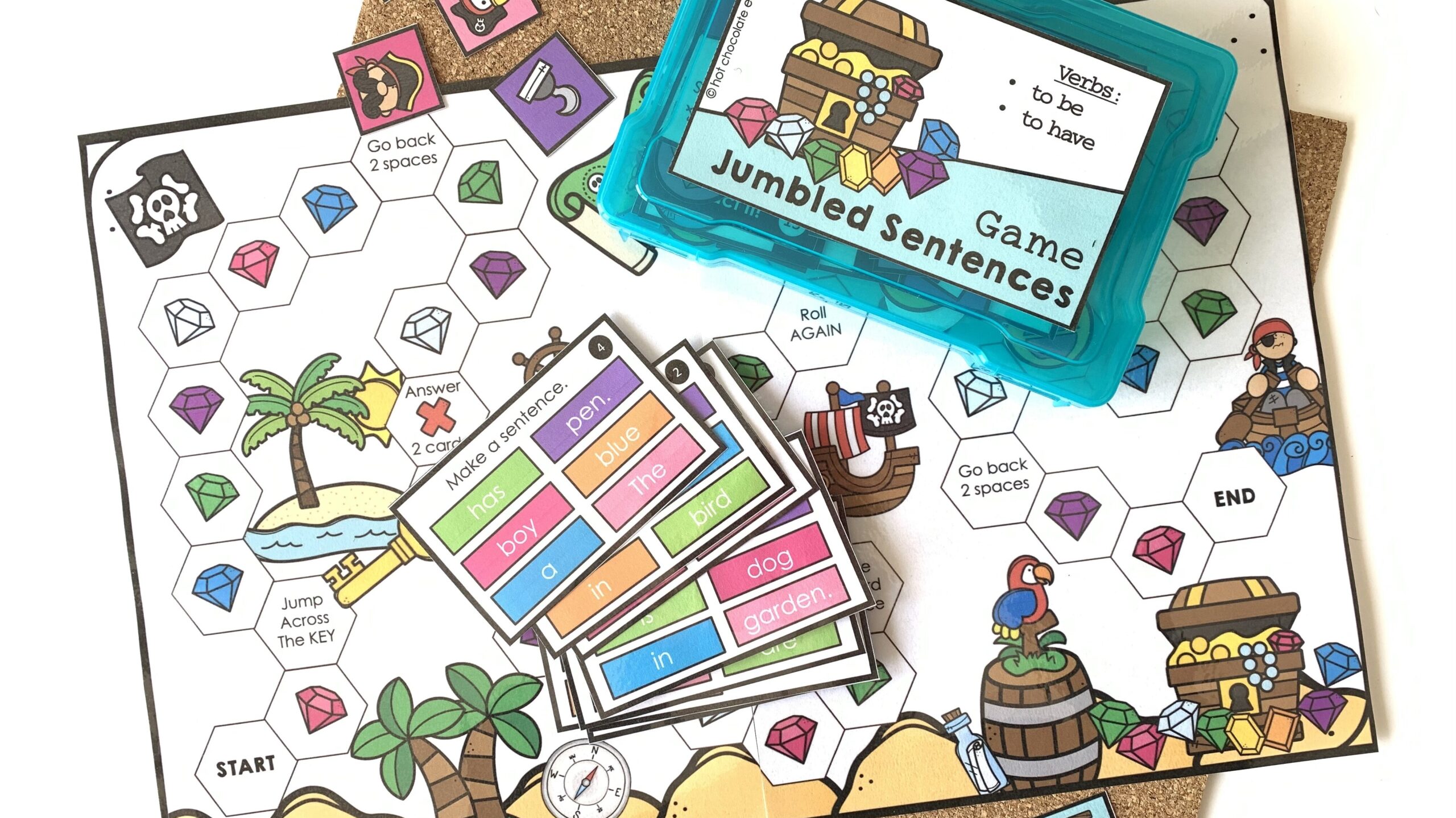 Another great way to practice building sentences and questions in small groups is by using a targeted board game. This pirate theme game focuses on verbs: to be & to have. This low prep game board printable includes everything you need to play (dice not included). The jumbled sentence cards provide great practice for kids to piece together simple sentences and questions.Students roll the dice and advance on the game board. Each time they land on a new space, they pick a jumbled sentence card and try to put the words into the correct sentence order. You can keep the 48 different sentence cards in ziploc bags or these task card boxes from Amazon* that I find really useful for keeping materials organized. (*This is an affiliate link.)
take a closer look at my sentence building board games below

PRESENT SIMPLE JUMBLED SENTENCES – Be / Have
PRESENT CONTINUOUS JUMBLED SENTENCES
What's included
BOOM CARDS – SENTENCE BUILDING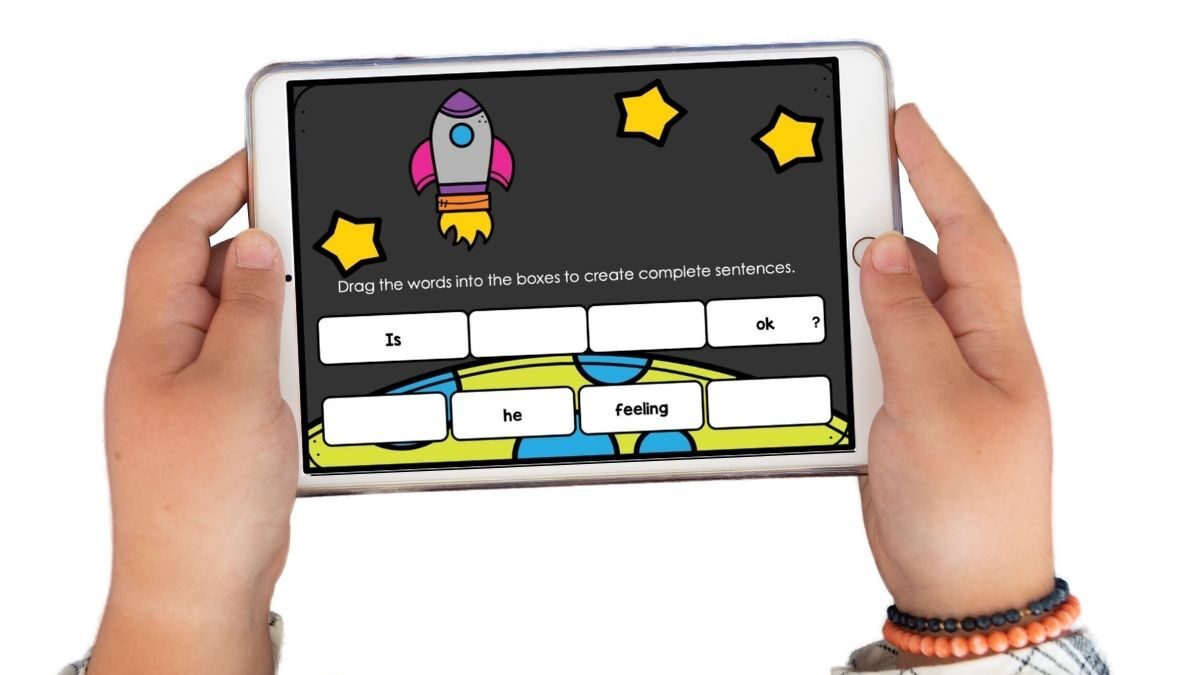 If you haven't tried Boom Cards, I highly recommend that you do! This SENTENCE BUILDING – PRESENT CONTINUOUS Boom Card Deck has students drag and drop the words into the correct sentence order providing instant feedback on their answers. Not only do students love them because,- they are amazing for a number of reasons:
Boom Cards are self-checking and as a result make a great homework assignment
They are great for independent practice and fast finishers
They can be used as a whole class activity

To see all SENTENCE BUILDING BOOM CARDS™ click here.
JUMBLED SENTENCE STRIPS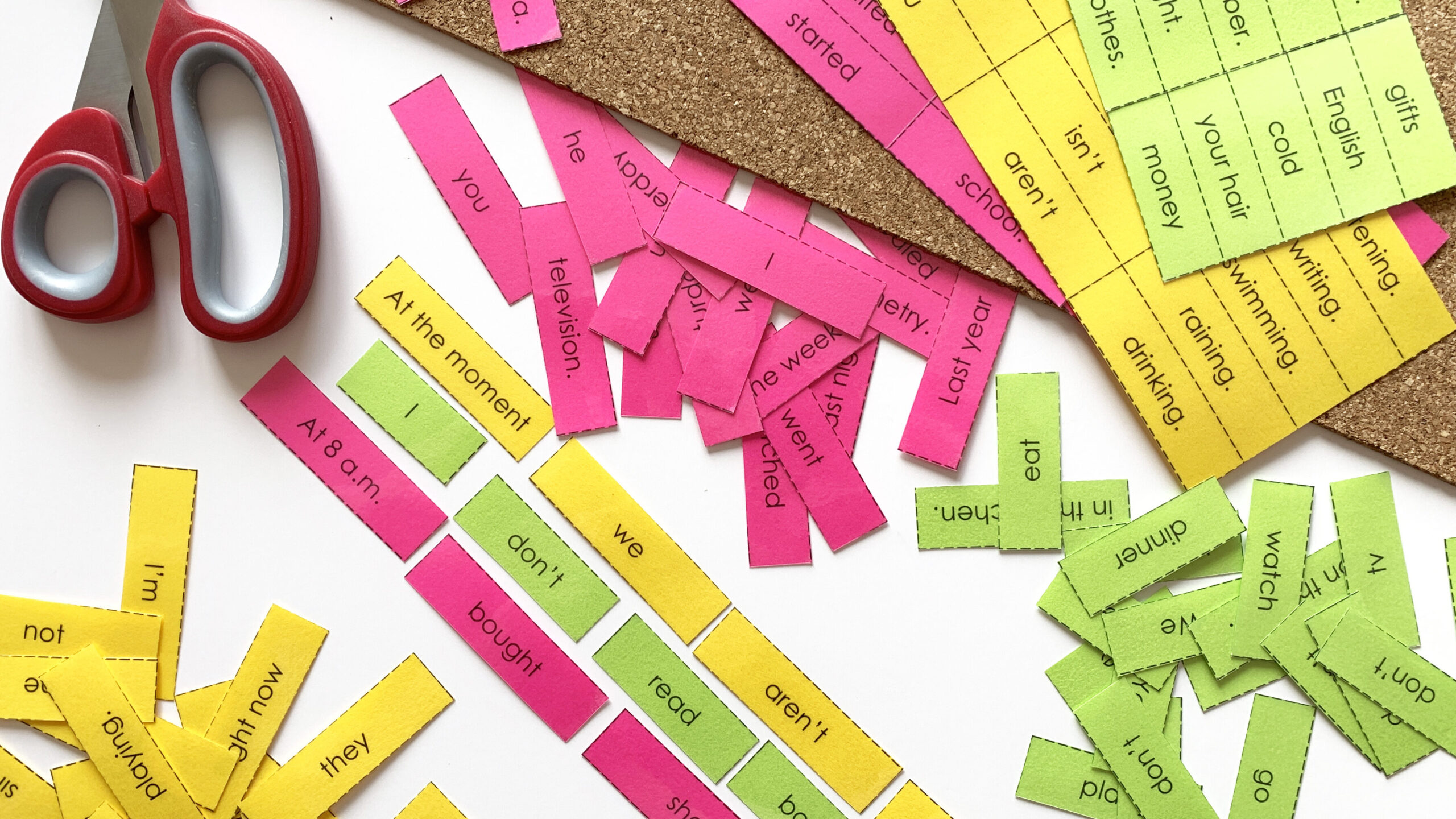 The perfect mixed-up sentence exercise for students working on complete sentence structure using Present and Past Verb Tenses in the ELL classroom. This set includes 90 different sentences and questions that must be cut out and the fragments must be assembled in the correct order by students. It's a great small group activity for English language learners.
This set includes Present and Past Tenses
Students will use the cut-up sentence fragments to make as many sentences as they can
QUESTION BUILDING POWERPOINT JEOPARDY STYLE GAME SHOW
Game shows are a great way to encourage healthy competition and engage students! The powerpoint version of this game features disappearing points as the questions are answered. This game works well in teams which also promotes collaboration and teamwork.
The perfect digital mixed-up sentence exercise for students working on complete sentence structure using Present Tense Verbs. This word order game show activity is great to use with your entire class and features 50 different jumbled sentences.
Language Target:
Word order in sentences & questions
Using the verbs Be & HAVE
Using all other verbs
Positive-Negative Sentences and Question Forms
How does it work?
Use the jumbled words to make complete sentences and questions and earn points.
Interactive: Students choose the point value of the question they want to answer. points are linked to 25 different questions in 5 different grammar categories.
By clicking answer, they will see the correct answer and can add points to their total.
See the video preview to see how it works!
No-Prep & Easy to Use!
This game show activity is also available in a PRESENT CONTINUOUS version.
IN CONCLUSION
You can check out all of my SENTENCE BUILDING activities by following this link.
If you are interested in learning more about printable and digital ESCAPE ROOMS for ESL click here.
---

Happy teaching! Brooke