3 Engaging Christmas Activities to use in your ESL Classroom
Celebrating the holidays with your ESL students during the month of December is always a great opportunity to introduce new vocabulary and practice listening and speaking skills through engaging Christmas activities. Here are three activities you can use to keep high student engagement while building vocabulary, practicing targeted grammar and most of all – having fun. One of my favorite Christmas activities is an Escape Room style activity. This type of activity is great for small groups and keeps students highly focused on the end goal. If you are looking for a targeted way to practice multiple language skills – check out my SOLVE THE MYSTERY resources.
Escape room games are great activities to motivate and engage ESL students, create a team-working environment and practice vocabulary and grammar skills. I've created a collection of SOLVE THE MYSTERY Escape Style Adventures that are specifically tailored to English language learners. Each of the activities doesn't require difficult set-up, codes or tricky directions. If you are looking for a way to challenge your English language learners, increase comprehension and build vocabulary – keep reading! In this post I'll go over exactly how this type of activity works in the classroom.

My Christmas Escape Activity – "Where is Santa's sleigh?" is an easy to use, vocabulary rich resource to use during the month of December. Furthermore, included in the printable download, you'll find everything that you need to complete the activity (including prizes: bookmarks & homework passes). When you use this activity, make it even more memorable by adding candy or chocolate along with the bookmarks. Increase the holiday vibe by playing holiday music in the background while students are working.
ESCAPE ROOM CHRISTMAS ACTIVITIES FOR ESL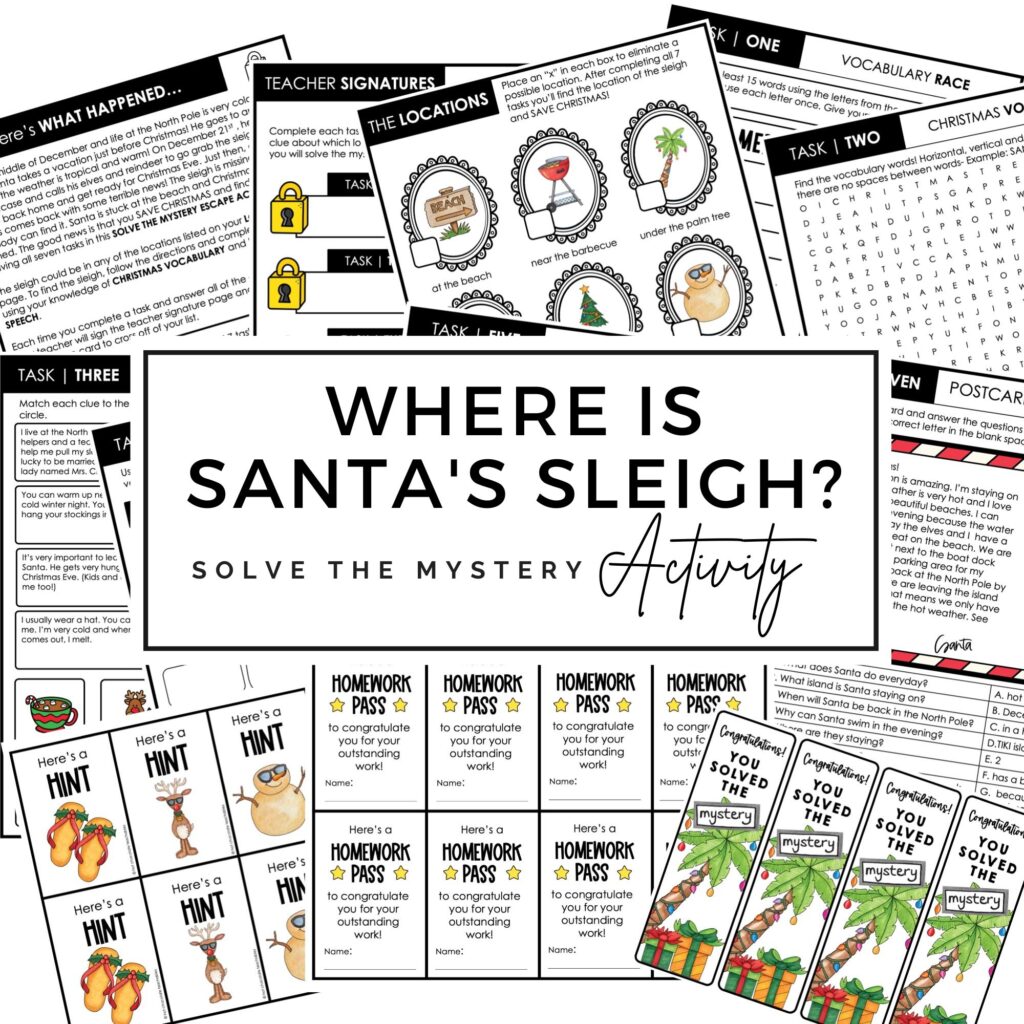 Looking for a great Christmas activity? Solve the mystery type activities are an amazing way to get kids involved in the learning process and in this case, practice Christmas vocabulary. Since breakout style activities can be challenging for ESL learners, I've created a complete collection of ESCAPE ROOMS that don't require tricky locks, keys and codes.
You can take a closer look at the Christmas Solve the Mystery here.
How does THIS CHRISTMAS ESL ACTIVITY WORK?
Print the necessary components (worksheets, and prizes).
Read the story line together as a class. Each story presents a specific problem or mystery. In this case, Santa is on vacation with his elves on a tropical island just before Christmas. Just as he is about to leave, he realizes that his sleigh can't be found anywhere! Your students will have to search the island looking for the missing sleigh so that Santa can go back to the North Pole and Christmas won't be ruined.
Your students will start completing the tasks from 1-7.
Every time they complete a task they'll need your signature to move forward.
Check that the task has been completed correctly and give them a LOCATION card to cross off their list of possible sleigh locations.
After 7 tasks have been completed and 7 locations have been crossed off the list – ONE location will remain. This is the location of Santa's sleigh.
Students will receive prizes for solving all 7 tasks and the mystery. (Included are bookmarks and homework passes). You can also add additional prizes such as candy or chocolates to make the prize even more alluring!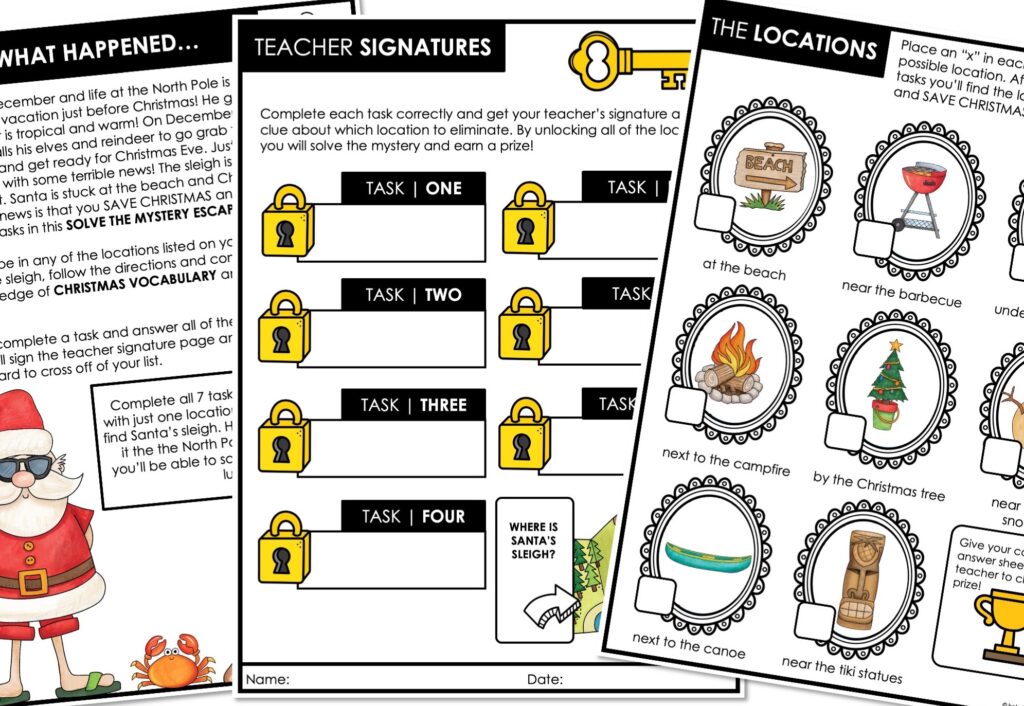 Students will complete these tasks:
Vocabulary race – Make as many words as you can using letters from the word given. (MERRY CHRISTMAS)
Christmas Vocabulary Word Search
WHAT AM I? Christmas word matching (inferencing)
Sentence building cards (using who, what, when, where)
Parts of Speech: color the nouns, verbs, adjectives, prepositions
Christmas Crossword – with hints
Postcard from Santa: text comprehension and questions
take a closer look at my SEASONAL SOLVE THE MYSTERY ACTIVITIES – FALL- HALLOWEEN – CHRISTMAS ESL ACTIVITIES -VALENTINE'S DAY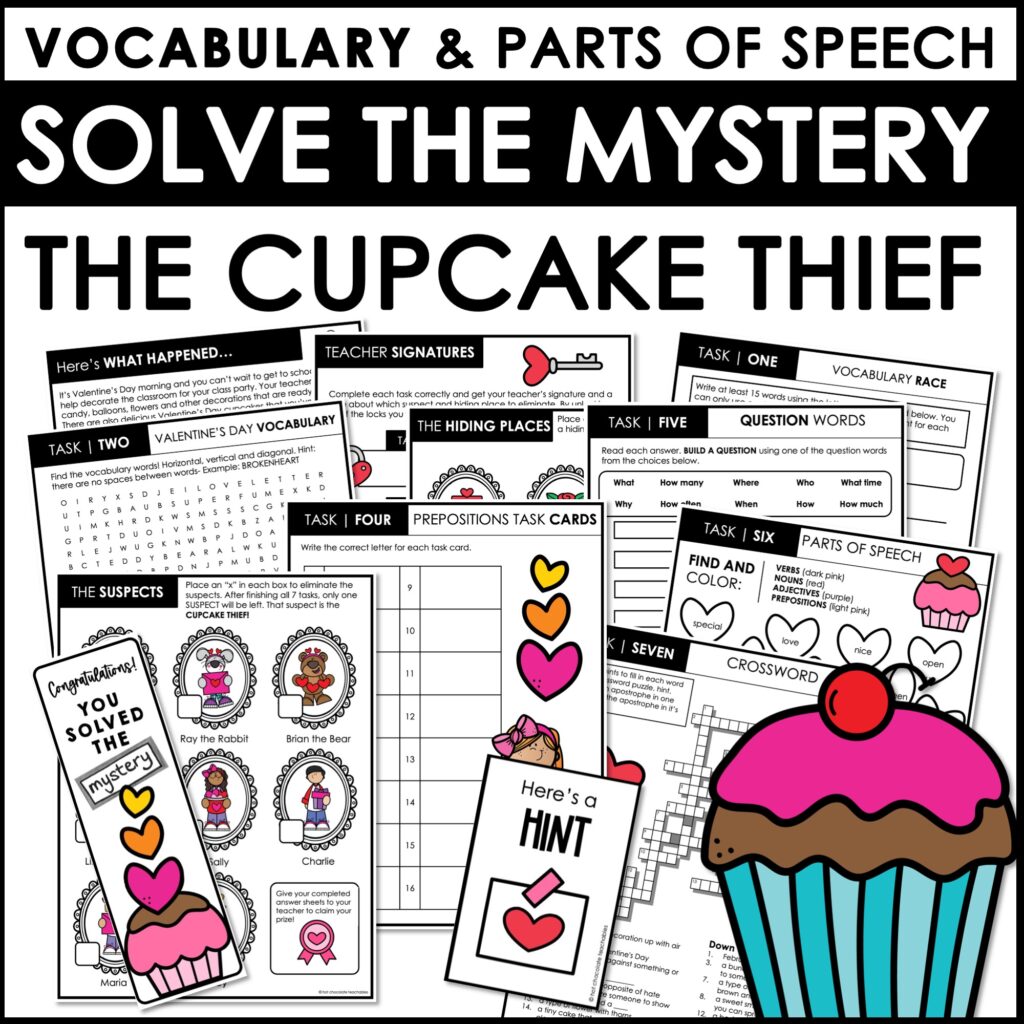 What's included in EACH SET
Dear santa – a CHRISTMAS activity for ESL – Letter writing templates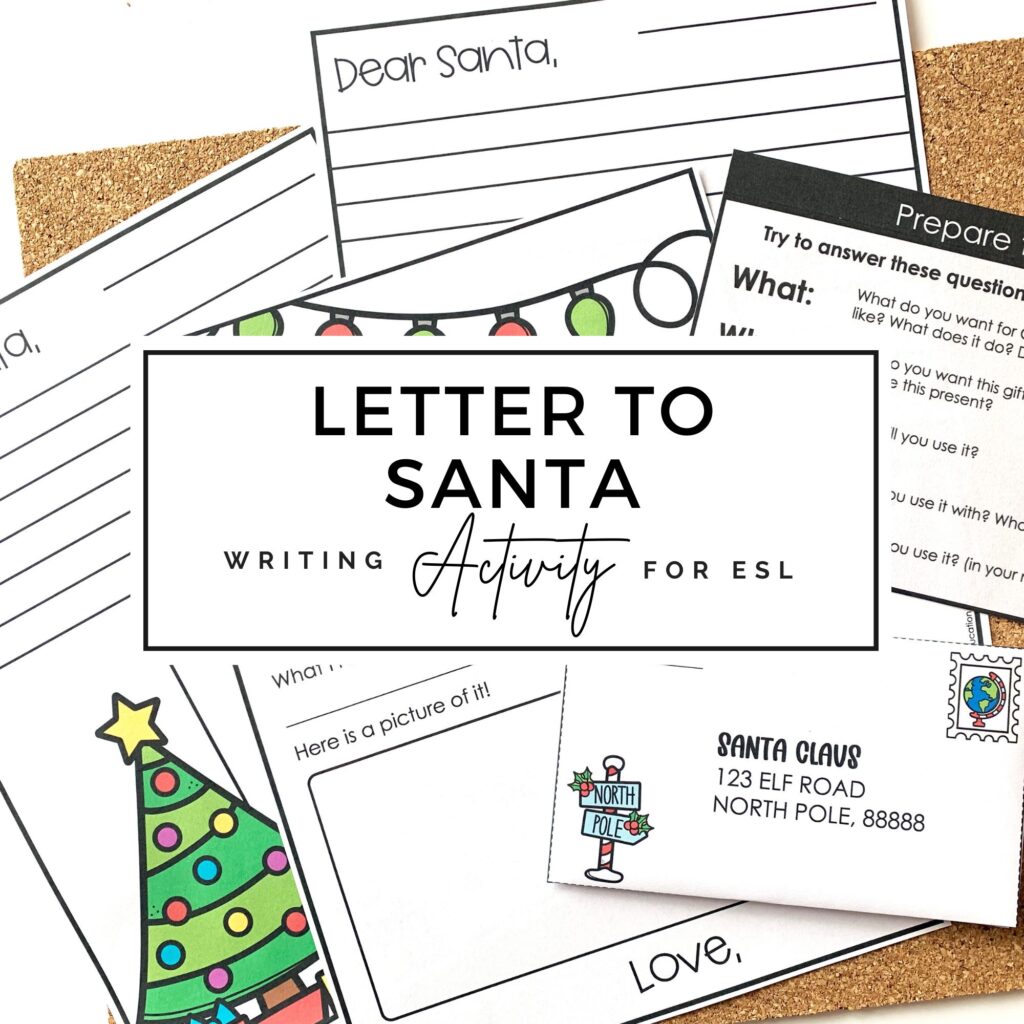 During the Christmas season, a holiday classic is writing the traditional letter to Santa. Letters can be can be really tricky for English L2 or ESL learners. ESL students may find it difficult to write complete sentences, organize thoughts or string together a brief paragraph. Giving language learners a blank piece of lined paper can be rather intimidating. With this in mind, I've created a differentiated letter writing kit to make the whole process easier! This activity breaks down into three different levels for 3 different skill sets. Levels 1 through 3 (beginner to more advanced learners).
Level 1 – Fill-in -the-blanks: Even newcomers with extremely limited language skills can fill-in these simple sentences and draw a picture of what they'd like for Christmas.
Level 2: Wh-Questions: Have your more advanced students use the Wh-word guide to answer the questions within their writing and create a more engaging and detailed letter.
Level 3: version with an option to write and draw the present
Grab this DEAR SANTA – Letter Writing Kit for ESL/EFL students HERE . These templates will make your letter writing lesson a breeze!
CHRISTMAS CHARADES – CHRISTMAS ESL miming activity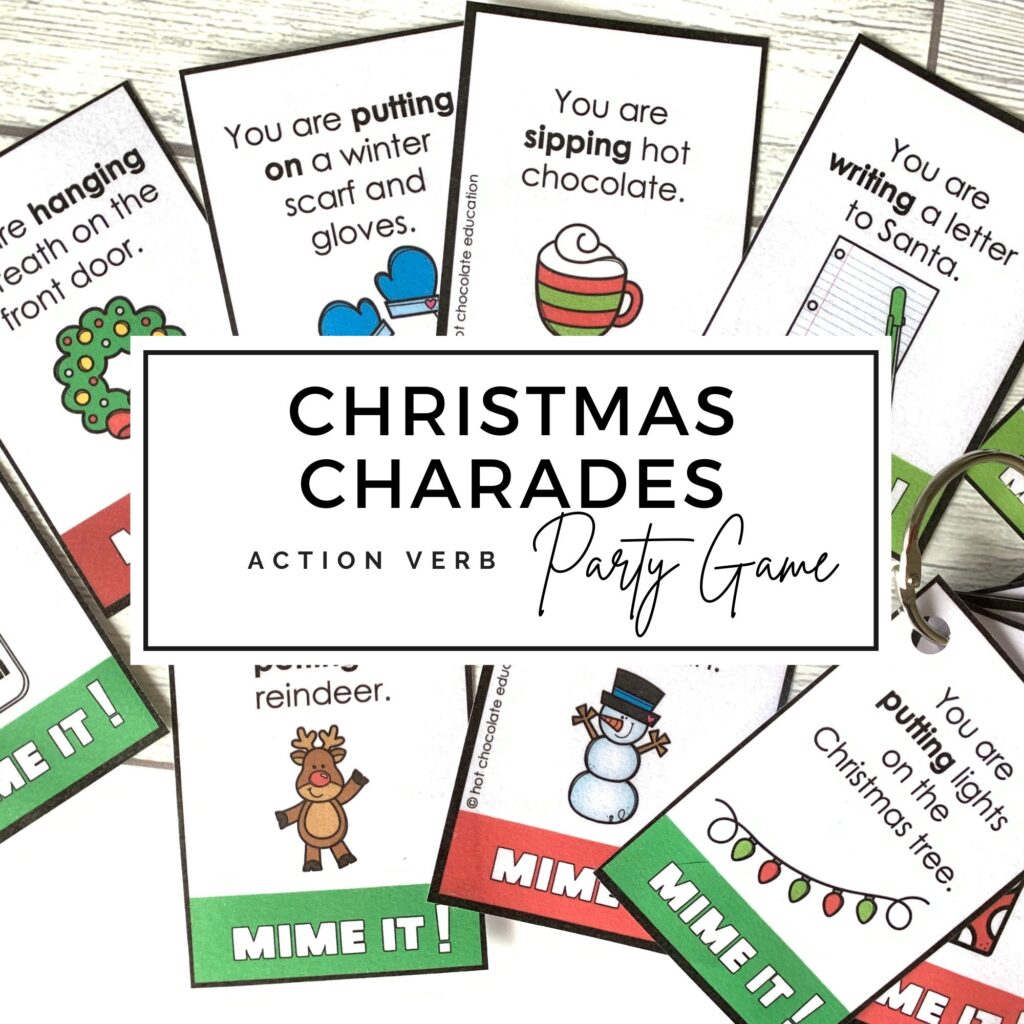 Another one of my favorite Christmas activities is CHARADES since it's so much fun to play and students love the interactive nature of the game! As a result, you'll have students brainstorming out loud and building vocabulary before you know it! The Christmas version is a great way to practice and celebrate the holiday while learning new verbs! Kids love acting out these Christmas action verbs while their classmates guess which verbs they are miming. Each of the colorful miming cards was designed for use in ESL and EFL classrooms, but they are also an ideal activity for primary grades as well. It's also a great way to get students moving, use all that excess energy in a positive way and practice this important verb tense at the same time.

Additionally, they'll be learning through Total Physical Response (TPR) is a method of teaching language or vocabulary concepts by using physical movement to react to verbal input. The process mimics the way that infants learn their first language, and it reduces student inhibitions and lowers stress. Win-win!
32 different phrase cards with an action verb and a holiday themed action. (Ex. You are decorating the Christmas tree)
Cards print 8 to a page
Language Target:
Christmas Vocabulary
Present Continuous
Action Verbs
How does it work?
Pass out a miming card to each student.
Taking turns, one student will mime the character or action while classmates guess what they are or what they are doing!
No-Prep & Easy to Use!
Find this activity included in a discounted holiday bundle which includes everything you need to make your holiday classroom party a success!
IN CONCLUSION
Check out all of my CHRISTMAS activities by following this link.
Click the link if you are interested in learning more about printable and digital ESCAPE ROOMS for sentence building.
---

Happy teaching! Brooke